BC.GAME and David Luiz Welcome Players to a Massive Prize Pool of $1.2 Million from February 17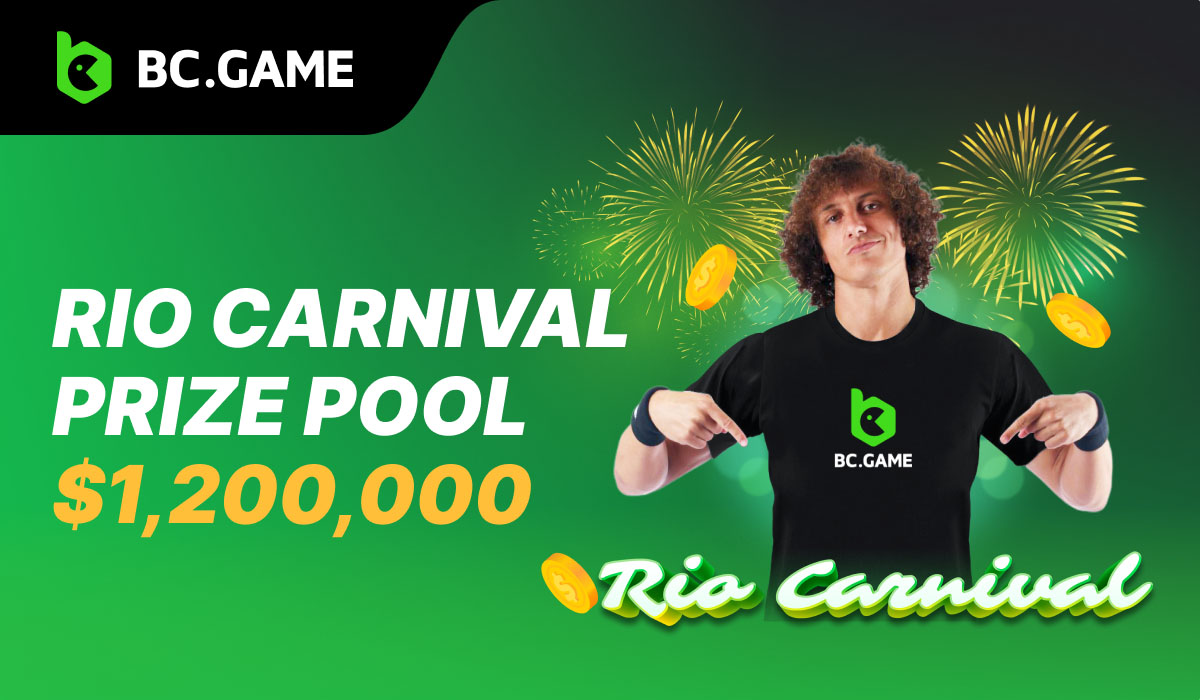 Football fans around the world have something to be excited about as BC.GAME has announced an exciting new promotion featuring Chelsea and Arsenal star David Luiz. This exciting new promotion allows players to win exciting prizes by accomplishing tasks from the event.

Players can join David Luiz in the Rio Carnival Event by collecting Rio Coins from various tasks. These coins can then be exchanged for an equivalent BCD.

How to Join the Rio Carnival

All BC.GAME players are eligible to join the event. The RIO Carnival will occur from February 17, 00:00 UTC +0, to March 16, 23:59 UTC +0. Players can earn RIO coins, an exclusive coin minted for the event. The coins will be used to get a share of the $1.2 million prize pool.

Every $1 deposit or $2 wager made by players is equivalent to 1 Rio coin. More chances of getting Rio coins will be given to players who log in daily. Players who can refer their friends to play at BC.GAME will have more chances to get more rewards.

By earning more Rio coins, you will have the chance to redeem higher rewards.

Redeeming Your BCD

Everyone who has collected 1,500 to 48,000 Rio coins can redeem up to 250 BCD. The more you wager and deposit, the more Rio coins you can earn. All players can redeem up to $600 weekly, which will be added directly to their BC.GAME accounts.

The redeemed Rio coins will be burned immediately to avoid duplicate redemption. Redeemable prizes are refreshed every Friday, 00:00 UTC +0, during the whole duration of the event. On each week, one player can redeem $250 and $150. Three players can redeem $50, and ten with $5 each.

For every 1,500, 10,000, 28,000, and 48,000 Rio coins, players can redeem 5, 50, 150, and 250 BCD, respectively.

All players should have a verified mobile number to be eligible, including their referrals. The deposits made should be wagered before mining the Rio coin. All Rio coins not redeemed after the event period will be recalled.

A single account is only valid for every player. Anyone caught using multiple accounts in redeeming BCD will be disqualified and banned from redeeming their prizes. In addition, cheaters will not be able to join any BC.GAME events in the future.

To access the event, visit https://rio.bc.game/.

About BC.GAME

BC.GAME is a crypto-gambling platform that was launched in 2017. Its new sportsbook addition added more events and player engagement for the best gambling experience. The casino offers an intuitive user interface and a wide selection of games, including slots, table games, and live dealer games. Players can also take advantage of the BC.GAME bonus system, which provides players with rewards for loyalty and deposits. A VIP program with exclusive benefits is also provided to players who place their bets regularly.